Project:
The PulseBand is a fictitious wearable monitor that measures the user's blood pressure, heart rate and pulse oximetry. The PulseBand allows the user to review real-time cardiac data and be assisted with an A.I. in making healthy choices.
Challenge:
To create a mobile application, that works in concert with the PulseBand, by executing competitive analysis, interviewing potential users, synthesizing research into personas, developing wire frames, style tiles, building a prototype and creating a marketing web page.
My Role:
UI/UX Designer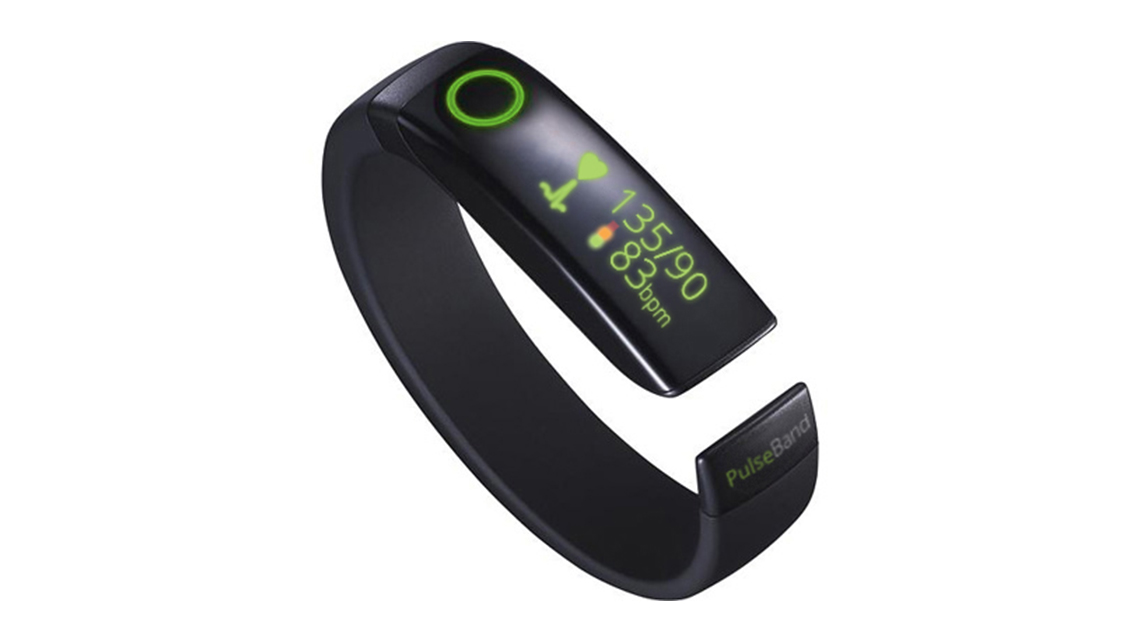 My Team:
My nimble team was tasked with developing a companion mobile application for the PulseBand, which allowed users to easily visualize and understand their data.
Our app development process included UX research of 24 subjects, user flows, wire frames, UI design, high-fidelity artifacts created in Illustrator, and a marketing landing page.
Agile Methodology:
My team used agile methodology by developing a scrum board allowing each of us to track where we are in the project. We had morning and afternoon check-ins, which assisted in staying on track.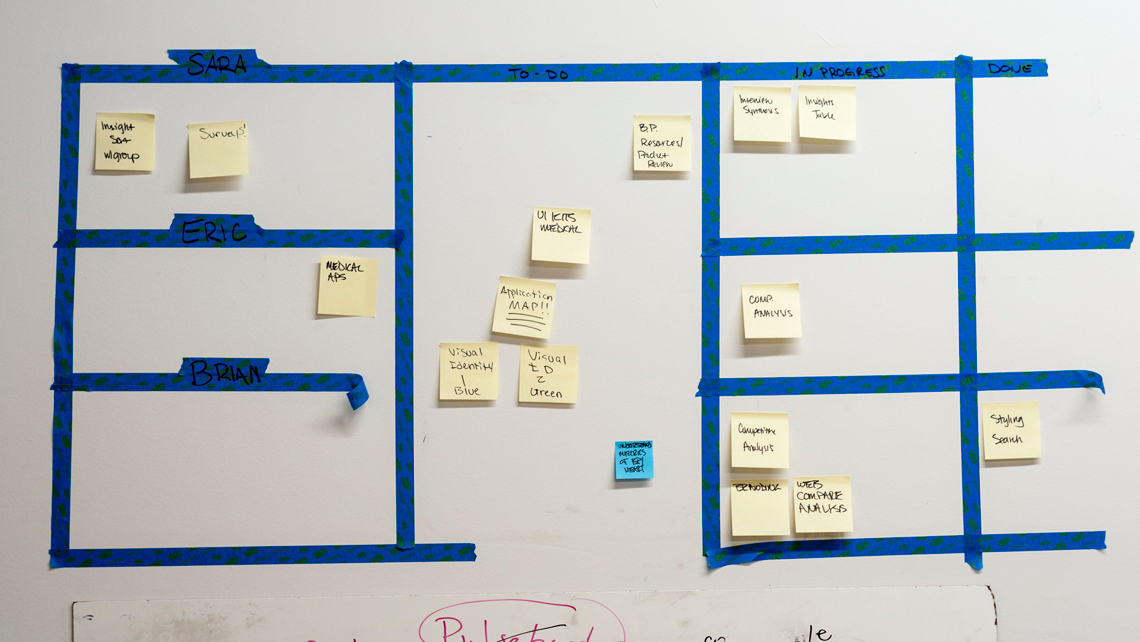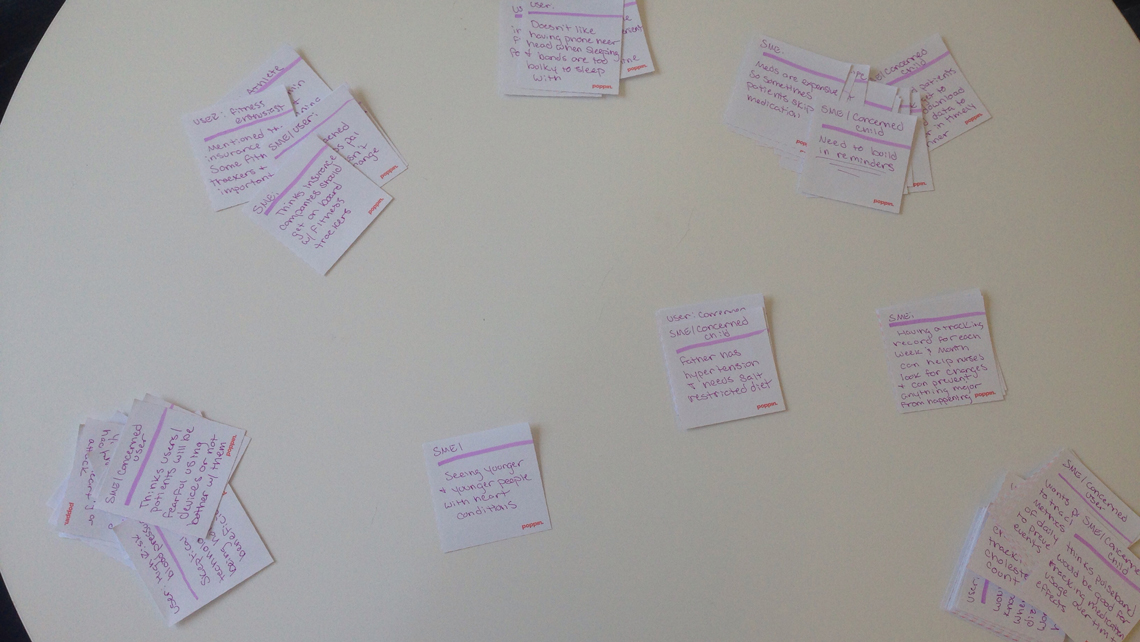 Card Sorting, Word Mapping and Metrics:
Through our research, we found that our subjects did not want to be bothered with taking their blood pressure over the course of their busy day. Therefore, we developed an app that worked in the background of people's lives, which incorporated an A.I. interface assisting them with data comprehension and ways to alleviate their blood pressure issues.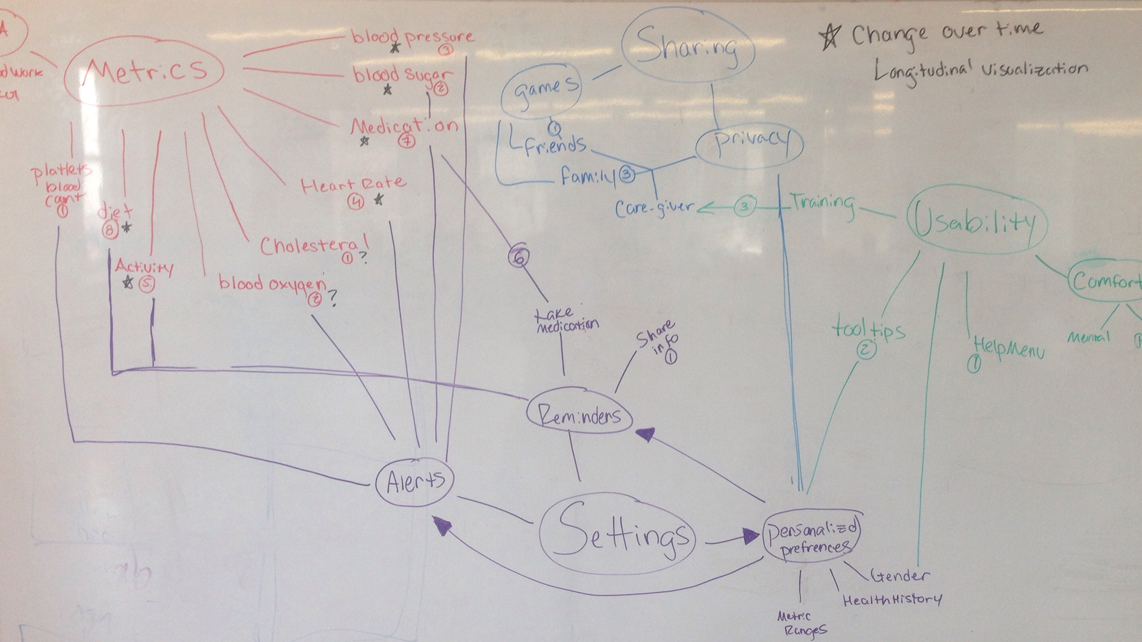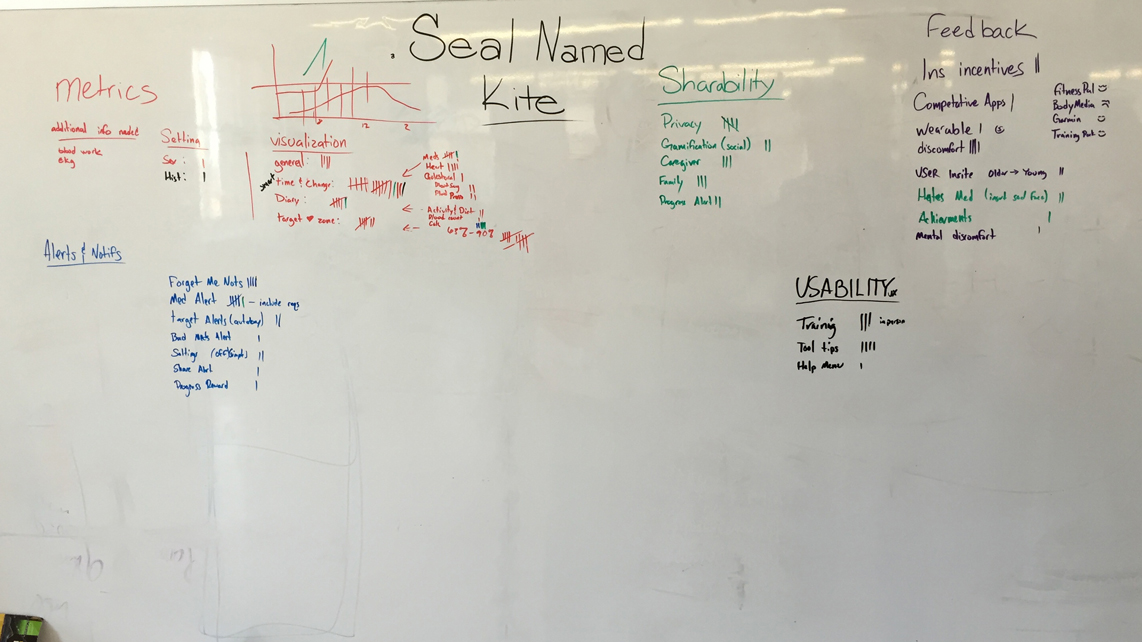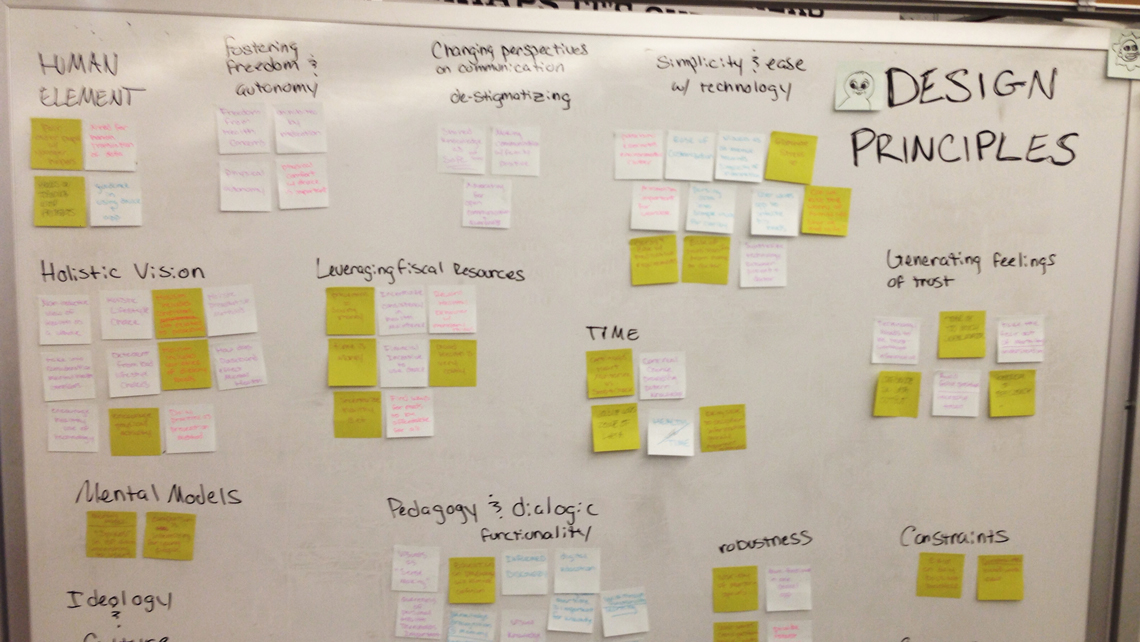 Design Principles:
We holistically looked at this project, including the human element and generating trust. Our users wanted a robust application but we had to be mindful of their key request concerning how to simply present the data in the app.
Personas, App Map and Style Tile:
Once our research was completed, we built out personas, focusing on two users. The first is a high-risk cardiology patient who needed to stay on top of his blood pressure and the second is a concerned adult, worried about a loved one's health. With these two personas in place, we were able to build out an application map that would assist both. Then we built out the style tile for the brand.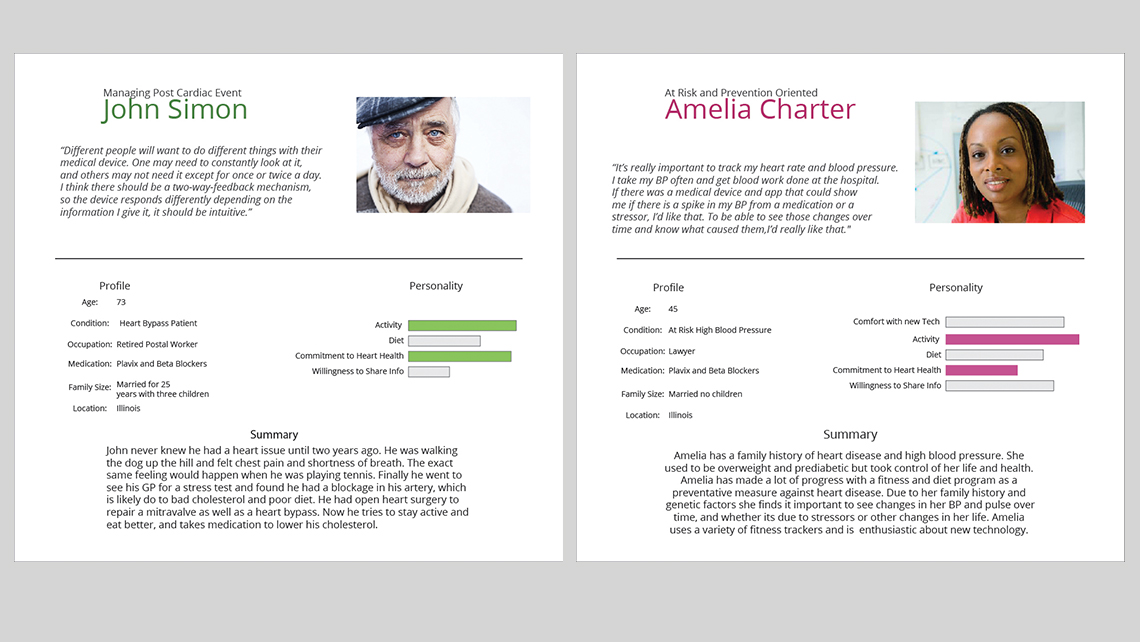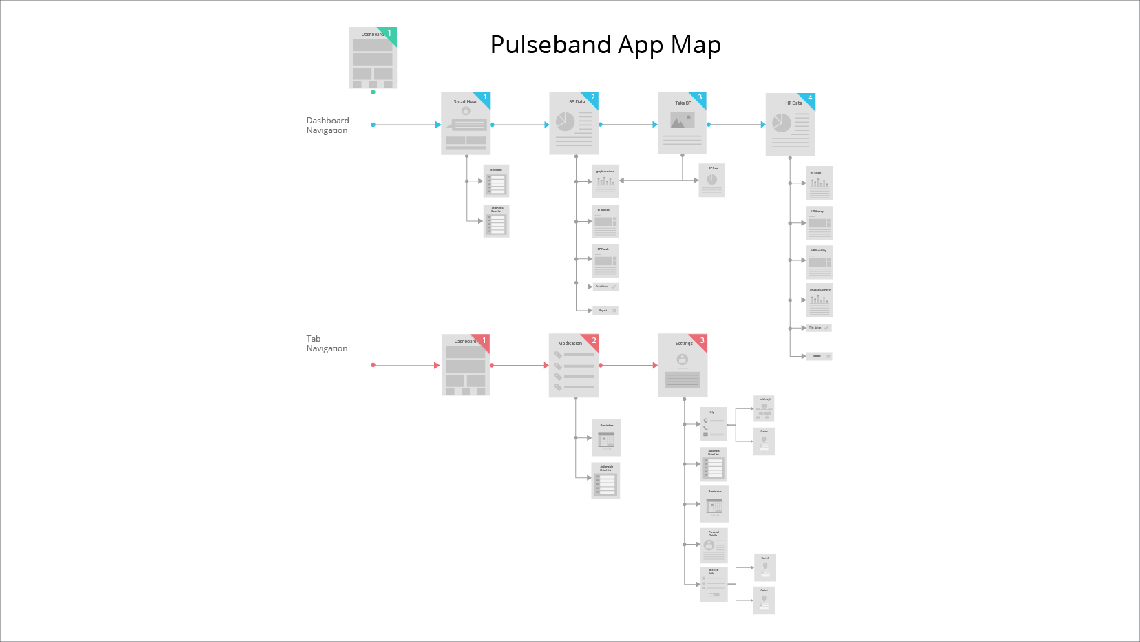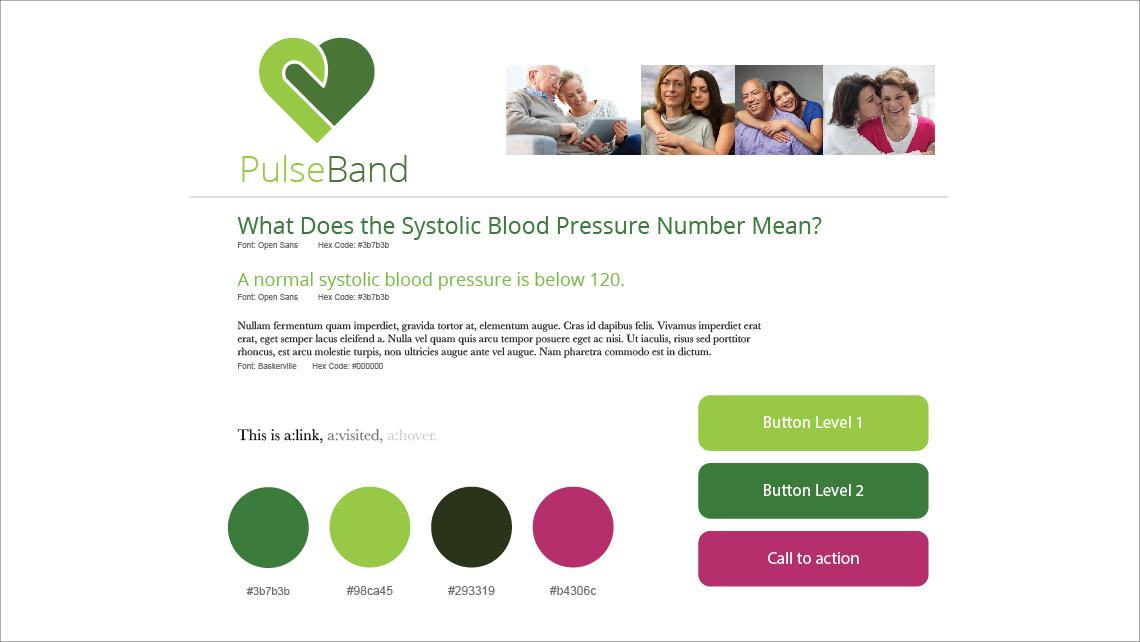 UI Kit, wire frames, and artifacts :
Our team's biggest challenge was creating a digital visualization for such complicated medical information. I designed a heart with levels flanking each side - systolic and diastolic. The levels gave you a quick overall evaluation of your blood pressure. By clicking through, the user would read their blood pressure graph and an A.I. would assist with understanding the readings.